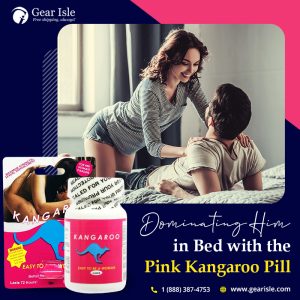 Do you want to step on the uncharted territory of BDSM in bed tonight? Do you, as a woman, want to dominate the act? Has your man admitted that he wants to get dominated by you? Trust us; you are not alone in this right now. The occasion Bondage, Discipline, Sadism, Masochism fantasy has cropped up in the minds of most women at least once their lives but most of them fail to act upon it. Not anymore. Keep reading this to know more about the best ways you can dominate your man in bed. But first, don't forget to get yourself ready by popping a pink kangaroo pill.
Key Ways You Can Dominate Him in Bed
First things first, keep a safe word handy. Whenever you are practicing BDSM, it is crucial that you know a safe word that both of you can use when you think the line should be drawn. Both of you should respect each other's boundaries and explore their strengths in the process. Some of the ways you can gain dominance in the bed are:
Control: Starting from scratch, you need to control the situation and let him know who the boss is. This fantasy of sexual power gives you the upper-hand right from the beginning. This is one of those many moments where you are in control of the situation and can mold it in a way you reach the massive-O first. If he doesn't agree with this basic rule and doesn't let you take control of the situation, step away immediately.
Enslavement: One of the key parts of a woman dominant is making a sexual love slave in your partner. Order him around the bedroom. Ask him to do things and take you to be the master. This meets with the sexual control aspect of the act and also becomes a part of the foreplay for the longer run. You have to act like a Queen when you want to be treated as so, right? Make him touch you, strip for you, piece by piece, and do anything you wish.
Bondage: The literally first letter in BDSM is B as in, Bondage. When you want to assert sexual control of the situation and make him your slave, you need to bind him to something. This might include blindfolds and handcuffs. If you don't have any of these handy, an eye mask or a tie can act as excellent options for the blindfold and handcuff situation. Bondage, mind you, puts him in a vulnerable position that is a huge turn-on for most men, believe it or not.
Teasing: As he is bound to the chair or the bed, you can tease him erotically all you want to. The fact that he wouldn't be able to touch you even though he badly wants to would make him frustrated and jump on you when it's time. Make him squirm helplessly in the situation and almost beg for your attention. Sit on his face and make him try to reach your pussy for a lick while you cradle his dick in the process. His body is yours to play with, for the time being, make the most of it.
Punishment: Can there be any BDSM act and not have punishment in it? Well, where's the fun in that? Both corporal and non-corporal punishment is a vital part of such sexual activities, and you can have as much fun as possible. The safe word, however, would come in handy. Since this is the holiday season after all, why not ask him, "have you been naughty or nice?" and then decide his punishment, depending on his answer.
Conclusion: As a woman with an upper hand, you can play mind games with him and replay fantasy situations in bed as well. All the items that you might require to have all the fun are available online at Gear Isle. As an adult novelty website that stocks authentic products like the stiff rox pill, everything is delivered discreetly. In case you want to check out the catalog, visit the Gear Isle website.