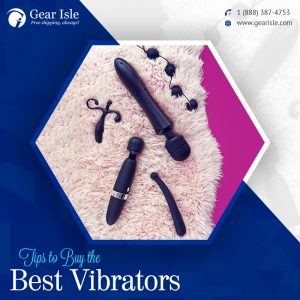 The two most popular products that work towards a woman's fantasy BDSM kit and masturbation manual are the dildo and the vibrator. While the dildo is more often than not a phallic-shaped object, a vibrator comes in a wide range of styles and shapes, giving extreme sensations with every use. These many options are bound to keep you confused about the product you want to get your hands on. So today, let's find out how to buy the best vibrators for sale online so that you can get your money's worth and make the most out of the feeling as well.
How to Choose the Best Vibrator for Enhanced Sexual Pleasure?
When it comes to buying vibrators for yourself, you need to first know that there are unlimited options available. Some of which mimic masturbation, others work well when a partner takes charge, while the others even vibrate along with the music. The five major types of vibrators include external, internal, penis-focused, anal, and combo. So, the first step to buying the ideal sex toy for yourself is finding out where you want to be stimulated! This table would help you with the same:
| | |
| --- | --- |
| Type | Stimulation |
| External | Around the Labia and Clitoris |
| Internal | Inside the Vagina |
| Penis-Focused | On and Around the Penis |
| Anal | Inside and Outside the Anus |
| Combo | Inside and Outside the Pussy |
Factors to Consider Before Buying Your First Vibrator
Now that you are aware of the stimulation you want to achieve and the type that best suits your choice, it is finally time to get to the business. As you head out to the best store to buy vibrators for sale online, you need to keep a few factors in mind. Some of those include:
1. Size: Yes, the size does matter, no matter how much we claim to believe otherwise. You would find, in the adult novelty product market, both large wand-like vibrators and discreet pocket-sized versions, according to your budget. As a first-timer, you need to be sure of what you like when you are having sex. If, while masturbating, you feel an orgasm building up in just a finger or two, opt for a smaller variant. But if you love the real deal more than anything, a large vibrator would do the trick.
2.Material: Always remember that nothing beats the feeling of skin inside you, but when you are looking at vibrators, you need to think of the material that comes a close second. The most commonly found material on vibrators includes silicone. As a non-porous material, it is easy to use and clean, and you will also be able to store them for a long time. The one material that you would want to avoid will be jelly feeling rubber toys.
3.Sound: A crucial part of a vibrator is the way it sounds. As the product you buy would have a lot of settings to adjust the speed of the vibrations and the pattern of the same, knowing what it sounds like would come of help. This way you would get to know if the person in the next room can hear you using it over your moans, or will it be silent. In case you are buying it online, check for the product description properly and find a website that accepts returns, as well.
Conclusion: These are three of the most basic things that you take need to take note of as you are buying vibrators for sale online. Gear Isle is one of the most reputable websites that stock authentic adult products at the most competitive rates. You can check out the website to find out the ideal vibrator for your sensations today!