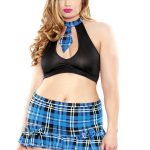 Who doesn't like channeling their inner school girl once in a while, right? Well, now you can actually look sexy while doing it!
There is just something about schoolgirl style lingerie that turns everyone on! It's time to bring your fantasies to real life by getting your hands on this sexy number. In order to enjoy a good, healthy and active sex life, you need the right lingerie. Adding that element of fun, surprise and excitement to your sex life is what every couple needs and that is exactly what we want to give you.
Being naked may be hot as well, but after a while that just gets boring. That is what lingerie is basically for; to make you look sexy even with clothes on! Our spicy schoolgirl costume is what every curvy girl needs to make her partner go crazy for her.
Give your partner a run for his/her money by putting on this black and blue schoolgirl costume. That short plaid skirt with the keyhole neckline top will surely make things so much more interesting in bed. Oh and that little tie will hang just above your boobs and make your partner want to yank it away to catch a good look of what is underneath. The costume comes with a matching G-string so that things become a little more excitement.
You can totally get into character by pairing this erotic costume with a ruler and maybe some nerd glasses? The more in character you are, the more excited your partner would be. Here are a few fun things you can do to turn your partner on even more:
The short plaid skirt will cover your butt just enough to leave your partner wanting more. Dance around a little bit in that skirt; it'll drive your partner crazy!
Pair the costume with some high heels to look even sexier.
Feel free to act a bit immature and innocent when wearing this costume. A schoolgirl's pretty innocent, right? So, better get into character and we promise that your partner will enjoy a little bit of acting. And he/she would be more than happy to teach you a few things.
Thinking of bed time as your own private 'date' is what all couples should be doing. When going out on a date, you like to dress up, right? In the same manner, dress up in sexy lingerie like this schoolgirl outfit when on your private bedroom date!